COMPANY
About NEWSCON
Corporate Logo / Company Name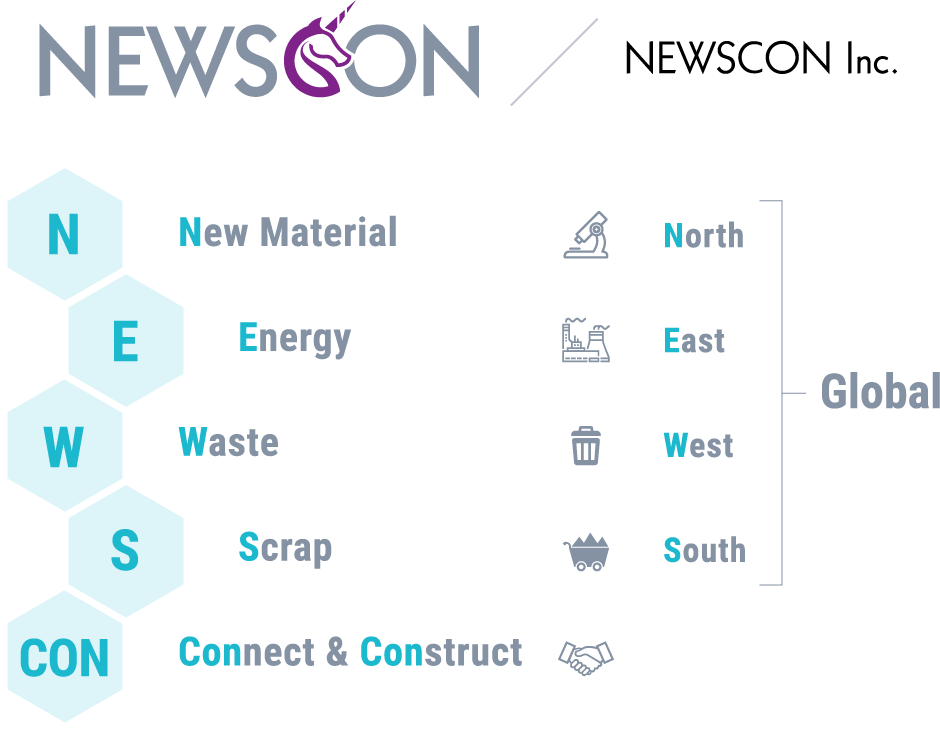 Corporate Philosophy
Creative Company:

Engage in the ongoing creation of business that is attuned to the needs of society

Engage in everyday work in the spirit with which the company was established.
Create new business in the spirit of the founder for generations to come.
Become the leading player in a business that is appropriate for them.

Circular Company:

Help others, get the best out of others, and share the benefits of our work with others

Help each other and lend a hand to others to make a pleasant working environment.
Use all materials perennially, preserving their value for as long as possible.
Share the profits and joy with the people you live with.

Company pursuing virtue:

Continuing the perpetual path of the company and its employees

Don't choose the easy path but choose the path which serves others.
Do what others don't do by taking advantage of your distinctive qualities.
Be grateful for your life and don't be arrogant.
*Supervised by Mr. Yoshiharu Shimizu, Mirai Design Research Institute Enishiya Effective March 20, 2004
Company Profile
Company Name

NEWSCON Inc.

L o c a t i o n

Head Office
Kyobashi RK Building 8F, 2-5-15 Kyobashi, Chuo-ku, Tokyo, 104-0031, Japan
Fujinomiya Sales Office
3507-19 Yamamiya, Fujinomiya City, Shizuoka Prefecture, 418-0111 Japan (C/O Econecol Inc.)

Board Members

President & Chief Executive Officer:

Hideki Yoshimi

Director:

Fumikatsu Sano

Director:

Sadaharu Saito

Establishment

April 7, 2020

C a p i t a l

JPY 200 million

S e r v i c e

Export / Import trading of Recyclable materials.

Main Shareholder

Envipro Holdings (100%)
Access
Head Office

Kyobashi RK Building 8F, 2-5-15 Kyobashi,Chuo-ku, Tokyo,

104-0031, Japan

Fujinomiya Sales Office

3507-19 Yamamiya, Fujinomiya
City, Shizuoka Prefecture, 418-0111
Japan (C/O Econecol Inc.)
Overseas Office
The Netherlands branch

Groot Handelsgebouw, Stationsplein 45, Unit A4.004, 3013 AK Rotterdam, Netherlands

UK representative Office

Room # 0-2-19, Dobson House, Regent Centre,

Newcastle upon Tyne, NE3 3PF UK

Tel: +44(0)1912336313 Ext 211

Vietnam Representative Office

3rd Floor, BLOCK A, INDOCHINA PARK TOWER,

04 NGUYEN DINH CHIEU, DA KAO WARD,

DISTRICT 1, HO CHI MINH CITY, VIETNAM

TEL +84(0) 286 288 3501

FAX +84(0) 286 299 8554
Envipro Holdings
Group Companies
As a team member of Envipro Holdings, NEWSCON will expand global distribution of resources and materials handled / produced from our group companies, and contribute in constructing / realizing resource recycling society across the globe.
ENVIPRO HOLDINGS Inc.
87-1 Tanaka-cho, Fujinomiya-shi, Shizuoka,
418 – 0075, JAPAN
TEL: +81-544 -21-3160 FAX: +81-544-21-3163
Website
Approvals and Licenses
Trading

AQSIQ Export License

LicenceNo.A392040950

International

ISO14001(EMS)

Perry Johnson Registrars,Inc.
Registration No. C2022-01393-R1

ISO9001(QMS)

Perry Johnson Registrars,Inc.
Registration No. C2022-01392

ISO45001:2018

Perry Johnson Registrars,Inc.
Registration No. C2022-03134-T

Others

Trading license
for Metal scrap

Public safety committees of Shizuoka Pref.
No.49110K000023 (Tagonoura yard)
TEL. +81-3-3528-6223
Business hours: 09:00 – 18:00
(Everyday except Saturday, Sunday, and Public Holidays)
CONTACT